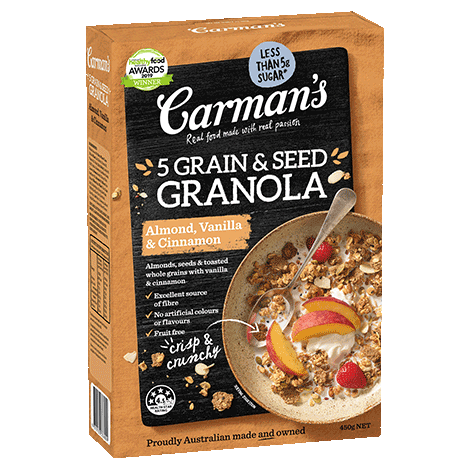 Almond Vanilla and Cinnamon 5 Grain and Seed Granola
This honeyed combination of Australian whole wheat, rye and barley, a medley of crunchy seeds and crispy almond flecks is so delicious, you won't believe it's under 5g of sugar per serve! Enjoy with milk or yoghurt and fresh fruit for a balanced start to the day that will keep you feeling fabulous.
Whole Grains (47%) (Oats, Rye, Barley, Wheat Flakes), Seeds (10%) (Sunflower Seeds, Buckwheat, Linseeds, Pepitas, Sesame Seeds), Chicory Fibre, Golden Syrup, Sunflower Oil, Almonds (6%), Wheat Bran Straws, Bran Flakes (Wheat, Barley), Raw Sugar, Puffed Rice, Rice Flour, Oat Fibre, Cinnamon, Natural Vanilla Flavour.
CONTAINS: GLUTEN (OATS, RYE, BARLEY, WHEAT), ALMONDS AND SESAME.
MAY BE PRESENT: OTHER GLUTEN-CONTAINING CEREALS, PEANUTS, OTHER TREE NUTS, MILK PRODUCTS, LUPIN AND SOY.
Manufacturer Details:
11 Hume St, Huntingdale VIC 3166