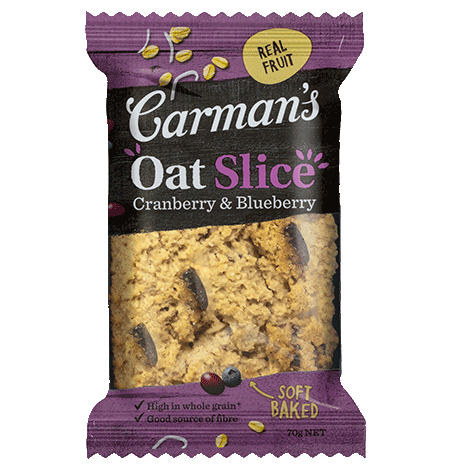 Cranberry and Blueberry Oat Slice
Rustic slices of home-style comfort made with Aussie oats and delicious plump berries. Made from the most honest and simple of ingredients, you'll be sure to savour every mouthful.
Whole Grain Oats 15%, Whole Grain Oat Flour 14%, Coconut, Butter (Cream), Brown Sugar, Wheat Flour (Folate), Golden Syrup, Berries (Cranberries 6% [Cranberries, Sugar, Sunflower Oil], Blueberries 2%), Grape Juice, Grain Dextrins, Baking Soda, Natural Flavour.
Contains: Gluten and Milk Products.
May be present: Peanuts, Tree Nuts, Sesame Seeds and Egg.
We have not added any nuts to this recipe; however we do bake other products in our kitchen that do contain nuts.
Manufacturer Details:
11 Hume St, Huntingdale VIC 3166