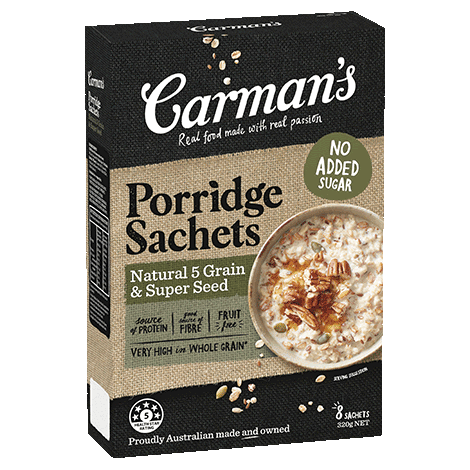 Natural 5 Grain and Super Seed Porridge Sachets
A deliciously unique blend of whole grains & seeds including barley, rye, sunflower seeds & puffed quinoa.
(GM free)
Whole Grains 90% (Oats, Rye, Triticale, Barley, Wheat), Seeds 10% (Linseeds, Pepitas, Sunflower Seeds, Puffed Millet, Puffed Quinoa).

Suitable for a vegan diet.
CONTAINS: GLUTEN (OATS, RYE, TRITICALE, BARLEY, WHEAT).
MAY BE PRESENT: OTHER GLUTEN-CONTAINING CEREALS, PEANUTS, TREE NUTS, SESAME, MILK PRODUCTS, LUPIN AND SOY.
Manufacturer Details:
11 Hume St, Huntingdale VIC 3166